Tweet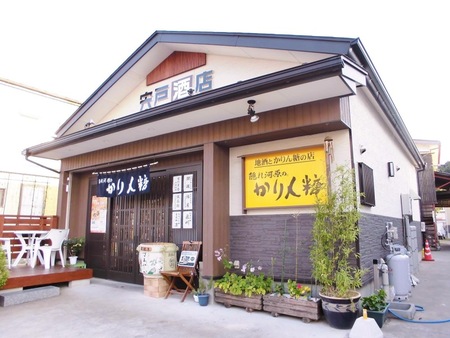 Our shop is located in front of Yabuki Station, and we have a direct-sale shop,"kakurekawara no karintou" where we sell local sake, karintou, carefully selected foodstuffs, and Yabuki Town's special gooseberry jam and pickles.

The gooseberry is a kind of Western currant. In Yabuki we harvest gooseberries in late June, and then spend five days making the jam. It is a very special product, and precious because we make only 1200 jars a year.

And there's yet another special product.
"Refreshing Iinazuke" produced and sold in Yabuki Town.
We grow white gourds and cucumbers, pickle them after harvesting, and bag them, all completely by hand, and use daiginjo sake lees from local sake breweries. Certainly munch on a few, please.
There are many other fastidiously prepared foods and sake on display. Please come here without fail if you are in the area.

When we remodeled, we built a small coffee space inside! If you're waiting for a train or otherwise killing time, please come on in.



There is a case unlike a placed amount of money.